The Best K-Pop Idol Girl Group (Vocal and Rap Skill)
These are some of girl groups who have a strong vocal and sound good at their Live Performance as The Studio version.
Berikut adalah beberapa Girl Group yang menurut ku punya teknik vokal yang bagus dan Live Performance yang gak kalah bagusnya dengan versi studionya.
*this post mixed with english and Bahasa Indonesia (indonesian language)
Brown Eyed Girls (disband)
Each of BEG member have their own strong vocal. You can watch their Live performance with "music record removed" on your internet, where the music was removed and it focused on their vocal performance.
JeA is main vocalist an the leader of B.E.G
When she went solo on the MV While You're Sleeping
Miryo is B.E.G Main Rapper
Goes Solo with MV called Dirty
Narsha is The Lead Vocalist and the lead dancer, she have a beautiful and mature soft voice, now she is more like into some korean variety shows, and now she is a member of SNL Korea host.
MV Narsha Mamma Mia
Comedy shows (SNL Korea)..she was one of the host of SNL. SNL Korea is a comedy reality show in Korea
Gain is the main dancer and vocalist, btw, dia juga bisa vocal dophin alias nada tinggi nyaring. Sekarang dia Solo artis.
Salah satu MV Gain "Truth or Dare"
Gain di acara variety show We Got Married
Cl is the Leader and The Main Rapper, dia juga bisa ngedance dengan baik dan lentur. Suaranya unik dan agak berat.
CL saat MV debut perdananya The Baddest Female
Park Bom merupakan Main Vocalist dari 2ne1, suaranya nyaring dan tinggi
Park Bom dengan single perdananya You and I
Park Bom saat Variety Show Roommate, dikenal dengan gadis 8D, karena anehnya itu sangat aneh, di roommmate ini kayaknya Bom naksir sama Lee dong Wook. Kerjaanya tidur sama makan..ckckkc
Posisi Sandara ialah sebagai vokalis. Dia juga pernah menjadi artis Filipina.
Minzy ialah lead dancer dan rapper di 2ne1, dan suaranya pun tak diragukan lagi.
U can't hardly find the Main Vocalist in Spica, cuz u'll find that they all have a strong ability in singing, their vocal are very good and they can reach low note and high note.They are kinda Korean Spice Girl.
Mereka paling cocok kalo nyanyi lagu yang menuntut teknik vokal yang sulit. Seperti lagu You Dont Love Me atau Tonight
Boa, Leader of Spica and she kinda Main Vocalist and Lead Vocalist of Spica, u can easily find her face in the group, cuz i think her face is dolly like and so unique, find a girl with small face, samall nose, and big eyes, and tall body. She have a husky and beautiful feminime flirty voice, her voice is sound like Liz McClarnon from Attomic Kitten, you know her, right?? that british girlband from the 90's. She also a vocal trainer of Infinite. btw, She's my favorite
Bohyung, she is also The Main Vocalist and The Lead Vocalist of Spica, she have kinda low tone voice and she can reach high notes. I think her voice is kinda Adele, do u know Adele that British singer ?? she almost into 2NE1 line member, before 2NE1 debut, but for some reasons she left the oppurtunity, she was trained from YG and JYP.
Narae, also The Main Vocalist of Spica , her voice is kinda some singers of K-Drama OST love song.
Junhyun, she is The Main Rapper and vocalist, she have a low tone voice and kinda rocking, when she want make it like rocking. As the vocalist, she's as good as the main vocalist line.
Jiwoon, the vocalist and the visual of Spica, she wan a friend of Uee After School and G.Na, they were in a same girl group back then, but not yet debut, so each of them take another chance and left the group. Once she was invited in After School beauty sho called After School Beauty Bible in KBS, she was with Uee and Kaeun in the Cafe, they talk about how Jiwoon take care of her skin.
MAMAMOO
Despite of their mature ladies face they all are still in the young age. Their voice are as mature as their looks, and their vocal are just one of the best in korea. Their Live performance are as good as their studio version, these girls are so talented, this is what the singer should be.
This girl's nickname is Solar, yeahh..kinda weird..she is the lead vocalist of Mamamoo, she also very beautiful, btw she's the oldest here..born in 1991.
This girl is Moonbyul, she's the secon eldest here, born in 1992..she is the main rapper, eventho her line is not as much as the other, but she can rap like semi expert, her vocal is so unique an strong..
Wheein that's her nickname, she is the Main Vocalist, she is one of the youngest, born in 1995, but her face kinda look so older than the eldest one..or it's just beacause of the make up??
Whasa is the youngest..born in 1995..she is the Lead vocalist and Lead Rapper..
CSJH (disband)
If you know TVXQ when they have all the members (5 guys) u can compare these girls to those guys. They have kinda angelic voice and beautiful harmonies. They had disbanded, and just left 2 girls who still in SM entertainment, they made a duo, Dana & Sunday. But Their popularity is not really good. It's really suck..they are so damn good and also beautiful.
Hyorin is the leader and the main vocalist of this group, her voice is so husky and sound so high when she reached the high notes, she could stab your ear with her voice..when she was talking, her voice sound so low and also husky. Whether her voice when she was on stage or on the studio record, it;s sound the same for me...even, she sound so real good in Live performance. she also can rap.
Soyu, same as Hyorin, she also have a husky and high voice, but not as high as Hyorin, her voice is smoother than Hyorin, it could balance the harmony of the song. She also good at Live performance.
Bora is the Main rapper of the group. She also can sing, her voice sound soft and kinda girlish, u can listen to her singing in Sistar 19 on My Boy. When she talked, her voice is kinda low and unique.
Dasom, i think she is the face of the group. She have a little bit of line at every song. When she perfomance Live with some up beat music, sometimes she can't control her voice, so sometimes i didnt really listen whether she was really singing or lipsynch, but when it comes to easy beat slow dance, she can sing it well, but she can't reach high notes.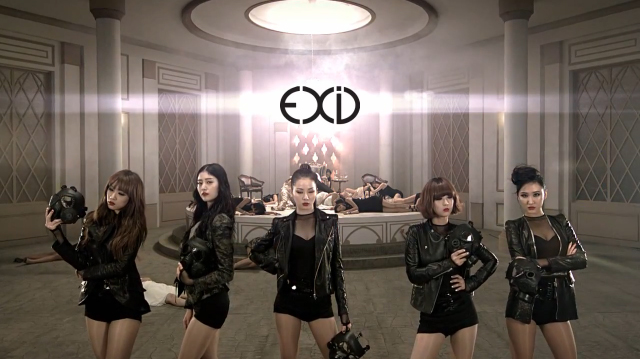 Actually i don't really know about each girls skill, buat what i watched and listen on their Live Performance, they sound good.
Le merupakan Main rapper dan Lead dancer dari Exid, suaranya sangat unik dan berciri khas
Hani ialah Lead Vocalnya, Exid ini punya vokalis-vokalis yang suaranya terdengar agak sama. When I listen to K.Will new album One Fine Day, there's a song the title is Sweet Girl, Le Exid was featured in that song, at first i listened it, i though it was Hyuna 4Minute rapping there. Btw, she was featured with Hyuna in Hyuna new album A Talk.
Solji, merupakan Main Vocalistnya, suaranya berat dan agak tinggi.
Hyerin, Lead Vocalistnya..aku kurang tau jenis suaranya
Junghwa, mungkin visualnya, di profilenya sih ditulis Main Dancer, apa karena kerjaannya nari aja di grup itu, cuz yang ku lihat dance mereka juga gak gereget semacem 2NE1
So, do you have any references, cuz i don't really know about all k-pop girl group well ...????
leave a comment, plz...